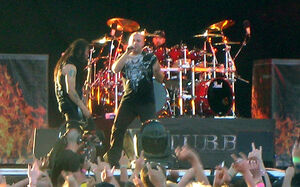 Disturbed is a rock band from Chicago, Illinois. The group was formed in 1996 when musicians Dan Donegan, Steve "Fuzz" Kmak, and Mike Wengren hired singer David Draiman. They have sold over 10 million albums worldwide, and released three consecutive #1 albums.[1] More notably, only six other rock bands have released three #1 albums in a row: Van Halen, Pearl Jam, U2, Dave Matthews Band, Staind, and Metallica. Originally classified as a nu metal band,[1] they are now regarded as alternative metal.[2] However, the band's genre is still being debated. When asked about die-hard heavy metal fans not finding Disturbed heavy enough, frontman David Draiman stated:
We probably have too much melody going on or we're not quite as turbulent or caustic. While I really love that type of music, it's not what we try to do. If we have to place things in context, we're more hard rock than heavy metal these days.[3]
Early days as Brawl
Edit
In its early days, Disturbed was known as Brawl, a band whose lineup included guitarist Dan Donegan, drummer Mike Wengren, bassist Steve "Fuzz" Kmak, and vocalist Eric Awalt. Eric Awalt left the band shortly after the recording of a demo tape and the other three members went on advertising for a singer. David Draiman joined as the band's vocalist in 1996. The band was then re-named Disturbed.
The SicknessEdit
Disturbed started recording several demos and played live shows. Not long after, in 2000, the band released its debut album, titled The Sickness, which launched the band into stardom. The song "Down with the Sickness" was championed by radio station WXQR-FM (Rock 105) in North Carolina and placed into "heavy rotation" by Program Director Brian Rickman. The song was quickly added by radio stations such as WAAF in Boston and KROQ-FM in Los Angeles following its success. The track became extremely popular and was later used in many film soundtracks, and still is used a great deal to this day.
Soon after the release of The Sickness, Disturbed released a revamped cover version of "Stone Cold" Steve Austin's theme music for WWE called "Glass Shatters". Disturbed performed "Glass Shatters" live at WWF New York during 2001. [4] Disturbed headlined Ozzy Osbourne's Ozzfest tour in 2001 alongside Black Sabbath, Marilyn Manson, Slipknot, Papa Roach, Linkin Park, Black Label Society, and Crazy Town. Afterwards, the band started the Music as a Weapon Tour. The bands Adema, Drowning Pool, Stereomud, and Systematic were featured on the tour alongside Disturbed.
Before joining Marilyn Manson's 2001 European tour, Disturbed's bassist Steve "Fuzz" Kmak was unable to play with the band due to a shattered ankle. Fuzz injured his ankle by falling out of a fire escape outside Disturbed's rehearsal hall in Chicago a few days before Christmas.[5] He took the fire escape to exit the building while the elevator was being used to move their equipment downstairs. After a successful operation, doctors highly recommended that he skip the tour to avoid more severe damage to his foot. But he did perform with the band on January 11th and 12th, 2001 at Disturbed's show in Chicago. A bass player named Marty O'Brian was recruited and filled Fuzz's spot until Fuzz was able to play again. On June 4 2002, Disturbed released a "documentary" about the band titled M.O.L., which showed some of the band's more personal moments in the studio and during tours.
In September 2002, Disturbed released their second studio album titled Believe, which debuted at #1.[6] The songs "Prayer", "Liberate" and "Remember" all became singles and many fans were impressed with Disturbed's new album, despite it being less aggressive than their debut album. The music video for "Prayer" was pulled from most TV stations, due to the similarities it had with the September 11, 2001 attacks. Disturbed's frontman, David Draiman, recorded the vocals for "Forsaken", a track written and produced by Jonathan Davis of the band Korn for the Queen of the Damned soundtrack. In 2003, the band once again participated in the Ozzfest tour and started another one of their own tours named Music as a Weapon II. The bands Chevelle, Taproot, and Unloco toured with them.
In early 2003, after Disturbed had finished the Music as a Weapon II tour, the band experienced the departure of bassist Fuzz, who was fired for "personal differences."[7] He was replaced with Matt Konopinski very briefly, and then John Moyer, who is now the current bass player.
Ten Thousand FistsEdit
Disturbed toured with 10 Years and Ill Niño in support of their third album Ten Thousand Fists, released worldwide on September 20 2005, which also debuted at #1 in North America. Ten Thousand Fists had five B-side tracks that were not released on the album, but rather on various singles and other albums. Currently the track "Hell" can be found on the "Stricken" single (a second version of this single has the studio version of the track "Dehumanized", which was originally featured as a live track on the Music as a Weapon II live album and DVD). The track "Monster" was originally released as part of an iTunes pre-order package for the first people who pre-ordered Ten Thousand Fists. Afterwards, the track was very hard to find. But, it can now be found on the "Tour Edition" of Ten Thousand Fists (along with the track "Two Worlds"). The track "Sickened" can be found on the "Land of Confusion" single. The fifth and final track "Criminal" has been released on the band's newest album Indestructible. A month after the release of Ten Thousand Fists, Disturbed headlined the Jägermeister Music Tour along with the band Corrosion of Conformity.
Disturbed supplied the song "Stricken" for WWE's New Year's Revolution 2006. In April 2006, the band completed an Australian tour supporting Korn and sharing the tour with 10 Years and Hatebreed. In mid 2006, a European tour was scheduled but had been moved twice due to the band's frontman having troubles with his voice.[8]
I had been taking Prevacid for about four years and my body built up a resistance to it, to the point where it wasn't doing anything anymore...I had a night of drinking in London followed by a full day and night of drinking on a day off in Dublin, because what else is there to do in Ireland but drink? That, coupled with a show where I had monitor problems, and I pretty much trashed my voice.[9]
In late 2006, Draiman underwent surgery for a deviated septum which affected his voice. It was successful, and ever since then, Draiman has limited his drinking on the road.
[10]
Disturbed headlined Ozzfest 2006 along with
Ozzy Osbourne
,
System of a Down
,
Lacuna Coil
,
DragonForce
,
Avenged Sevenfold
, and
Hatebreed
. The band also went on the European tour that had been previously moved twice earlier in 2006. Disturbed headlined another one of their own tours named Music as a Weapon III; the bands
Flyleaf
,
Stone Sour
, and
Nonpoint
toured with them.
Draiman became involved in the music file sharing controversy by publicly speaking out against the RIAA's lawsuits against file sharing individuals, despite the fact his record label is a member of the RIAA.
This is not rocket science. Instead of spending all this money litigating against kids who are the people they're trying to sell things to in the first place, they have to learn how to effectively use the Internet. For the artists, my ass...I didn't ask them to protect me, and I don't want their protection.[11]
Draiman also told NYRock:
[I'm] Very positive about the internet, Napster. I think it's a tremendous tool for reaching many more people than we ever could without it. When you release music you want it to be heard by people. Artists really want to have their music heard. They want to have their creation heard by people. Nothing is going to do that better than Napster. I can't tell you how many kids have come up to me and said, 'I downloaded a couple of tunes off Napster and I went out and bought the album.' Or they say, 'I want to come see you play.' I don't really make money off of record sales anyway.[12]
IndestructibleEdit
Disturbed completed the first leg of their Music as a Weapon III tour in late 2006. Soon after, Draiman stated that there wasn't going to be a second leg to the tour and that instead the band was going off the road to start working on their fourth album.[13] In July 2007, a new track titled "This Moment" was released on the soundtrack to the movie Transformers. The band then worked on the new album through the months of October and November, with recording finished in December of 2007.
The band mixed their fourth album Indestructible[14] in Los Angeles, California in late 2007.[15] In an earlier interview, Draiman said that they were going to record 15 songs, but only 12 will be on the album. Draiman said that the track "This Moment" will not appear on the album.[16]
On February 26, 2008, the band released a thirty-second sample of a newly re-recorded version of an old track from before their first album, The Sickness, titled "Perfect Insanity" on their MySpace profile. The track appears on Indestructible. Another track, "Inside the Fire", the first single from Indestructible, was made into a music video and was released on May 2, 2008. On March 7, 2008, "Perfect Insanity" was made available for full download on their website, which led to the song receiving some minor radio airplay.[17]
The band played live in Kuwait during a special "Operation Myspace" on March 10, 2008. A condensed one-hour version aired on FX on April 12, 2008. On March 19, 2008, a trailer for Indestructible was posted on the band's YouTube channel.[18]
Indestructible's first single, "Inside the Fire" was released for playback on the band's MySpace profile and made available on digital distribution services for purchase on March 25, 2008.
Draiman had a lengthy interview on MTV's Headbangers Blog website where he talked about an ex girlfriend with a heroin addiction when he was 15, inspiration for the song "Inside the Fire", serious accidents, bad relationships, touring, and the process of making Indestructible. Recently, the band completely remade their official website with exclusive information about the "Inside the Fire" music video. The video was released May 2, 2008 on their official website.
Disturbed released their previously free song "Perfect Insanity" on iTunes as a second single on May 6, 2008, and the album Indestructible become available for pre-order for the release date on June 3.
On May 13, 2008, Harmonix, the developers of the video game Rock Band announced they had reached a deal with Disturbed and Best Buy to offer two tracks from Indestructible for play in Rock Band to those who pre-ordered the CD from Best Buy's website. On May 30, Harmonix announced that there will be three tracks available - "Indestructible", "Inside the Fire", and "Perfect Insanity". They will be released as singles and as part of 'Disturbed pack 01'.[19] The songs will be $0.99 (80 Microsoft Points) and the pack will be $2.99 (240 points) for a short time. They will then go to the full price of $1.99 (160 points) and most likely 440 points for the pack. The promotional code from the preorder can be entered on Disturbed's website and this will grant a free download of "Indestructible" and "Inside the Fire". The site will allow the code to be entered on June 3, along with the release of the album. A Microsoft Code will be received that will give access to "Disturbed pre-order pack" that includes "Indestructible" and "Inside the Fire". They do not appear as purchased in the music store.
On May 17, 2008, Disturbed played at the rock festival Rock on the Range in Columbus, Ohio. They played on the main stage right before Stone Temple Pilots. They played songs from their Indestructible album as well as songs from their previous albums.
Disturbed played their first live online concert on May 29, 2008. The concert was sponsored by Pepsi and DeepRockDrive. They performed in Las Vegas. During the concert, people could send in questions, comments, etc, to Disturbed. Disturbed took time in between each song and answered a few.
The cover art for all three editions of Indestructible were released to the public on Disturbed's Site. On the same day, the band performed "Inside the Fire" at Spike Guys' Choice Awards which aired June 22, 2008.
Indestructible was released in the United States on June 3, 2008 and in Australia on June 7, 2008 and became the band's third consecutive #1 debut. There is a special "Internet Only" Limited Edition of the album that includes the B-side track "Run", a making-of DVD with instructional videos, wrap-around poster, VIP laminate, access to special Disturbed events, and a special website with exclusive video, rare audio and more.[20] Also, a special edition of the album has been released.
Disturbed has played at both the Rock am Ring and Rock im Park festivals, as well as the Download Festival in June 2008.[21] The band also recently finished touring in support of the "Mayhem Festival" alongside Slipknot, DragonForce, and Mastodon.[22]
They will do a tour of Australia and New Zealand through August and September with supporting acts P.O.D., Alter Bridge, Behind Crimson Eyes (Australia only) and Redline (New Zealand only).[23] The track "Indestructible" was recently filmed for a music video and it was directed by Noble Jones and released on August 20.
Disturbed's mascot has been seen in the music video for "Land of Confusion" and has appeared on the covers of two of their albums, Ten Thousand Fists and Indestructible. He has been referred to by lead singer David Draiman as "The Guy" and was originally just a drawing of a face with a large grin, as seen on the back of the The Sickness album and later in the music video for "Stupify". After being just a drawing, The Guy has become a mascot, fully animated by Spawn creator Todd McFarlane.
References
Edit