Standard Series: Navy Blue, Blizzard Pearl, Blue Agave, Black, Chrome Red, Brown Sunburst, Electron Blue, Midnight Wine, Arctic White, Sonic Blues
American Standard Series (as of 2008): Black, 3-Color Sunburst, Olympic White, Blizzard Pearl, Charcoal Frost Metallic, Candy Cola (alder), Sienna Sunburst (ash)
American Deluxe Series: Amber, Chrome Silver, Montego Black Metallic, 3-Color Sunburst, Tobacco Sunburst, Aged Cherry Burst, Olympic White Pearl, Black, Honey Blonde, Candy Apple Red, Butterscotch Blonde, 2-Color Sunburst, (Factory Special Run): Lake Placid Blue, Teal Green Transparent, Natural, Cobalt Blue Metallic, Vintage White
Highway One Series: Midnight Wine, Flat Black, White Blonde, 3-Color Sunburst, Daphne Blue, Honey Blonde
Other colors may be available

The Fender Stratocaster, often referred to as a Strat, is a model of the electric guitar designed by George Fullerton, Leo Fender and Freddie Tavares in 1954, and manufactured continuously to the present. The Stratocaster has been used by many leading guitarists, and thus can be heard on many historic recordings. Along with the Gibson Les Paul, Gibson SG, and the Fender Telecaster, it is one of the most common and enduring models of electric guitar in the world. The design of the Stratocaster has transcended the field of music to rank among the classic industrial designs of all time; examples have been exhibited at major museums around the world.[1]
The Stratocaster has been widely copied; as a result, the term "Strat" is often used generically when referring to any guitar that has the same general features as the original, regardless of manufacturer.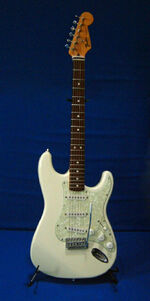 Design and popularity changes
[
]
From 1959 to 1967, the Stratocaster was refitted with a rosewood fretboard, as well as color choices other than sunburst, including a variety of colorful car-like paint jobs that appealed to the nascent surfer and hot-rod culture, pioneered by such bands as the Surfaris, the Ventures and the Beach Boys. Dick Dale is a prominent Stratocaster player who also collaborated with Leo Fender in developing the Fender Showman amplifier. In the early 1960s, the instrument was also championed by Hank Marvin - guitarist of the Shadows, a band which originally backed Cliff Richard and then produced instrumentals of its own. So distinctive was the Hank Marvin sound that many musicians - including the Beatles - initially deliberately avoided the Stratocaster and chose other marques. However, by 1965, George Harrison and John Lennon of the Beatles both acquired Stratocasters at about the time of the Rubber Soul recording sessions.

The one-piece maple neck was discontinued in 1959. However, a maple neck with a glued-on maple fretboard was offered as an option in 1967. The rosewood fretboard over maple neck remained as the other neck option. In 1969, after a ten year absence, the one-piece maple neck was again made available as an option. The primary reason for the switch to rosewood was to meet increased demand, as one piece maple necks required more work to manufacture and more work to finish. Since the introduction of the Ultra series in 1989, ebony was selected as a fretboard material on some models. In 1965 the Stratocaster was given a broader headstock, matching the size of the Jazzmaster and Jaguar.
Many artists (including Buddy Guy, Rory Gallagher, Eric Clapton, Jimi Hendrix, and Mark Knopfler) discovered that the three-way pick-up selector could be lodged in between settings (often using objects such as matchsticks to wedge it in position) for further tonal variety. Hendrix would also move the switch across the settings while sustaining a note, creating a characteristic 'wobbly' sound. Since 1977, Stratocasters have been fitted with a five-way switch to make such switching more stable. Other subtle changes were also made to the guitars over the years, but the basic shape and features of the Strat have remained unchanged. In the 1970s and 1980s, some guitarists began modifying their Stratocasters with humbucking pickups, especially in the bridge position, to create what became known as the Superstrat. This was intended to provide a thicker tone preferred in the heavier styles of hard rock and heavy metal. Notable early examples of this are Allan Holdsworth and Iron Maiden's Dave Murray (also Eddie Van Halen's home made guitar, Frankenstrat, was essentially a single-humbucker Strat). The popularity of this modification grew and eventually, Fender began manufacturing models with a bridge humbucker option, denoted and separated from the original triple single coil by the title of "Fat Strat", as a reference to the humbucker's distinct sound.
Players first perceived a loss of the initial high quality of Fender guitars after the company was taken over by CBS in 1965. As a result, the late-'60s Stratocasters with the large "CBS" headstock and (from the mid 70s) the 3-bolt necked models (instead of the conventional 4 bolts) fell out of fashion. However, Jimi Hendrix and many other blues-influenced artists of the late '60s soon adopted the Stratocaster as their main instrument, reviving the guitar's popularity. George Harrison used a Stratocaster in the 1971 Concert For Bangladesh, (though Eric Clapton had started using Stratocasters at this time, he used a Gibson during the concert) giving the Strat additional high visibility in rock circles. Also, so-called 'pre-CBS' Stratocasters are, accordingly, extremely sought-after and expensive due to the huge perceived difference of quality even with contemporary post-CBS models. In recent times, some Stratocasters manufactured from 1954 to 1958 have sold for more than US$175,000. Many now reside in Japan, cached away as collectible pieces of Americana. [citation needed]
After a peak in the 1970s, driven by players such as David Gilmour of Pink Floyd, Ritchie Blackmore of Deep Purple, Eric Clapton, Robert Cray, Robin Trower, Bob Dylan and Mark Knopfler of Dire Straits, another lull occurred in the early 1980s. During that time, CBS-Fender cut costs by deleting features from the standard Stratocaster line, despite a blues revival that featured Strat players such as Stevie Ray Vaughan, Robert Cray and Buddy Guy (a Stratocaster player since the mid-1960s, sometimes credited with influencing Jimi Hendrix, Eric Clapton and Stevie Ray Vaughan in their choice of the Stratocaster as a primary blues-rock guitar).
By 1982 the company had started producing Stratocasters in Japan. They built the cheaper "Squier Stratocasters" for the European and American markets. These models, again, weren't as high quality as before or even their American counterparts. All of Fender's guitars in the 1985 catalog were made in Japan. Some estimate that as much as 80% of Fender's sales between 1984 and 1986 were Japanese models.
In England, The Shadows' lead guitarist Hank Marvin who used the very first Stratocaster, which was ordered and owned by Cliff Richard to be exported to Europe (a '58 Fiesta Red model that started the huge success for this color's sales for Fender), played vintage Strats until the end of the 80s, then turning to his own Signature Stratocaster model.
However, when the Fender company was bought from CBS by William Schultz in 1985, manufacturing resumed its former high quality, and Fender was able to regain market share and brand reputation. This sparked a rise in mainstream popularity for vintage (and vintage-style) instruments.
Current models
[
]
As of 2007, Fender offers a wide line of Stratocasters alongside vintage reissues, as well as maintaining a "Custom Shop" service that builds guitars to order. Those who wish period-accurate replicas can request Stratocasters with original cloth-coated wiring, pickup and electronics designs, wood routing patterns, and even artificial aging and oxidizing of components using the Custom Shop "relic" process.
The American Deluxe Series Stratocasters came with a variety of high-end options such as a Fender DH-1 humbucker in the bridge position and an American 2-point locking vibrato bridge (Fender/Floyd Rose assembly) with LSR Roller Nut, locking tuners on certain models and Samarium Cobalt Noiseless pickups with S-1 switching. Guitars produced before 2004 featured Vintage Noiseless pickups and 4-bolt neck fixing. The contoured neck heel feature on these Stratocasters was added in 2002. The American Deluxe Stratocaster HSS (also known as American Deluxe Fat Strat) utilizes a Fender DH-1 humbucker in the bridge position and two Hot SCN pickups for a proper balance with the humbucking pickup. This guitar was also available with an optional Fender Deluxe locking vibrato bridge (American Deluxe Strat HSS LT). Introduced in 1998 and upgraded in 2004, the American Deluxe Strat HSS LT has been discontinued as of 2007.
American Series Stratocasters come with alder or ash bodies, rolled fingerboard edges, three custom "modern" staggered single-coils and the DeltaTone system (which includes a high output bridge pickup and a reverse-wound single-coil in the middle position). Hardtail versions were discontinued in 2007. New for 2003 was the American Strat HSS which features a Diamondback humbucker (bridge), two Tex-Mex single-coils (neck/middle) and S-1 switching. An HH model with dual Sidewinder/Black Cobra humbuckers was offered until 2007. As of 2008, all American Standard Stratocasters come with a redesigned bridge with vintage-style bent steel saddles and the S-1 switching has been dropped.
The Vintage Hot-Rod Series has vintage looks and modern playability ignited together in these next-level guitars, which feature authentic '50s and early '60s designs paired with some of the most scorching hot-rod modifications.
The American Special Series included Stratocasters with features that span the bridge between traditional and modern technology, either in specifications, design or both. Fender American Special series models were made in Corona, California (USA). The Floyd Rose Classic Stratocasters (made from 1992 to 2003) featured an original Floyd Rose locking tremolo bridge. They came in HSS (Fender DH-1 humbucker and 2 DeltaTone single-coils) and HH (dual Fender DH-1 humbuckers) configurations. Models manufactured before 1998 had DiMarzio PAF Pro humbucking pickups. The range also included the Honduran mahogany-bodied Strat-O-Sonic guitars with the choice of Black Dove P-90 soap-bars and Atomic II humbucking pick-ups, which lasted until 2007.
The VG Stratocaster (designed by Fender and Japanese synthesizer giant Roland) is an American Series virtual modeling guitar with a Roland VG pickup and two extra knobs for Tuning Function Control (5 Rotary Positions) and Mode Control (5 Rotary Modes), offering 37 different Stratocaster, Telecaster, humbucking, 12-string and acoustic sounds, plus five alternate tunings, all at the simple flip of a switch or twist of a knob. The VG Stratocaster has been introduced in 2007 and endorsed by Fender guitar clinicians Greg Koch and Jeff Kollman.
Custom Classic Strats are Custom Shop versions of the American Series models, sporting C or V-shape maple necks with rosewood or maple fingerboard and three Modern Classic single-coils with a Hot Classic bridge pick-up featuring a custom steel inductance plate. Custom Classic guitars made before 2003 were equipped with a set of Fender Texas Special single-coils.
Highway One guitars (introduced in 2000 and upgraded in 2006) include a large headstock, '70s styling, super-sized frets, three distortion-friendly Alnico III single-coils and a Greasebucket tone circuit (which rolls off the high frequencies without adding bass). The Highway One Stratocaster HSS features a black bobbin Atomic II humbucker in the bridge position. Limited edition models with '50s and early '60s specs are also offered with a run of 150 instruments; 2-tone sunburst finish, ash body, maple fingerboard and 1-ply parchment pickguard or surf green finish, alder body, rosewood fingerboard and 3-ply mint pickguard, both featuring a small headstock with "spaghetti"-style decal. Additionally, the alder-bodied guitar with the rosewood fretboard and the 3-ply mint pickguard sports a set of Custom Shop '69 Stratocaster single-coil pick-ups.
The Artist Signature Series line includes several Stratocaster models come with features and specifications favored by popular artists such as Jimi Hendrix, Eric Clapton, Jeff Beck, John Mayer, Stevie Ray Vaughan, Mark Knopfler, Eric Johnson, Yngwie Malmsteen and others. The Custom Artist guitars are the Custom Shop versions; they slightly differ from the regular Artist Signature range in terms of quality and construction, making these instruments much more expensive than the regular production versions. Like the other Custom Shop models, the Custom Artist guitars are available as Team Built and Master Built items.
Standard, Deluxe and Classic Series Stratocasters are generally made in Mexico, although some models are manufactured in Japan and Korea.
Fender Stratocasters are built in the United States, Mexico, Japan and Korea.
American, American Deluxe, Artist, Custom Classic, Custom Artist and Highway One series Stratocasters are made in a Fender factory in Corona, California, United States of America and are commonly called Made In America (MIA) Stratocasters. There is also a Fender Museum there open to the public.
Most other Stratocaster series models are made in a Fender factory in

Ensenada

, Mexico and are often labelled as Made In Mexico (MIM). Guitar necks are still manufactured in the Corona factory and sent to the Ensenada factory to be mounted onto guitars.
The Fuji Gen Gakki factory in Matsumoto, Japan, is also licensed to manufacture Fender Stratocasters, but exclusively for the domestic market. However, second-hand or earlier Made In Japan (MIJ) or Crafted In Japan (CIJ) Stratocasters can be found in foreign markets.

Fender Japan

had previously used the MIJ label, but switched to CIJ shortly after it limited guitar production to the domestic market.
Fender also produces Stratocasters under the Squier brand in China, Indonesia and India at lower cost than Fender-branded models. While Squier Stratocasters are predominantly inexpensive versions of Fender Stratocasters, some models are also unique to the Squier brand, such as the OBEY Graphic series or Hello Kitty series. They also offer a starter kit through Costco, Target and other retailers, which comes with a budget Strat under the name Starcaster by Fender, which comes in standard and deluxe pickup configurations. It also comes with extra strings, three guitar picks, a gig bag and an SP10 Amp.
Fender also offers a 12-string version of the Stratocaster, known as the Fender Stratocaster XII.
U.S. Patent No. 2,960,900
U.S. Patent No. D186826
External links
[
]